Edi-the Night Elf and the Morning Star
Many of people have the problem of cleaning. When your coloring stuff smudges the counter top of the white basin, there will be an obvious mark left on it. Sometimes it can be a tough work for you to recover the basin and if someone visits you, seeing the dirty counter top... That's absolutely awkward! 
To avoid this embarrassing event, you may need a vanity with deep-color counter top which is easy for cleaning and maintaining. Here, Edi, the elf of the night, a popular vanity series of TONA, shall be your choice.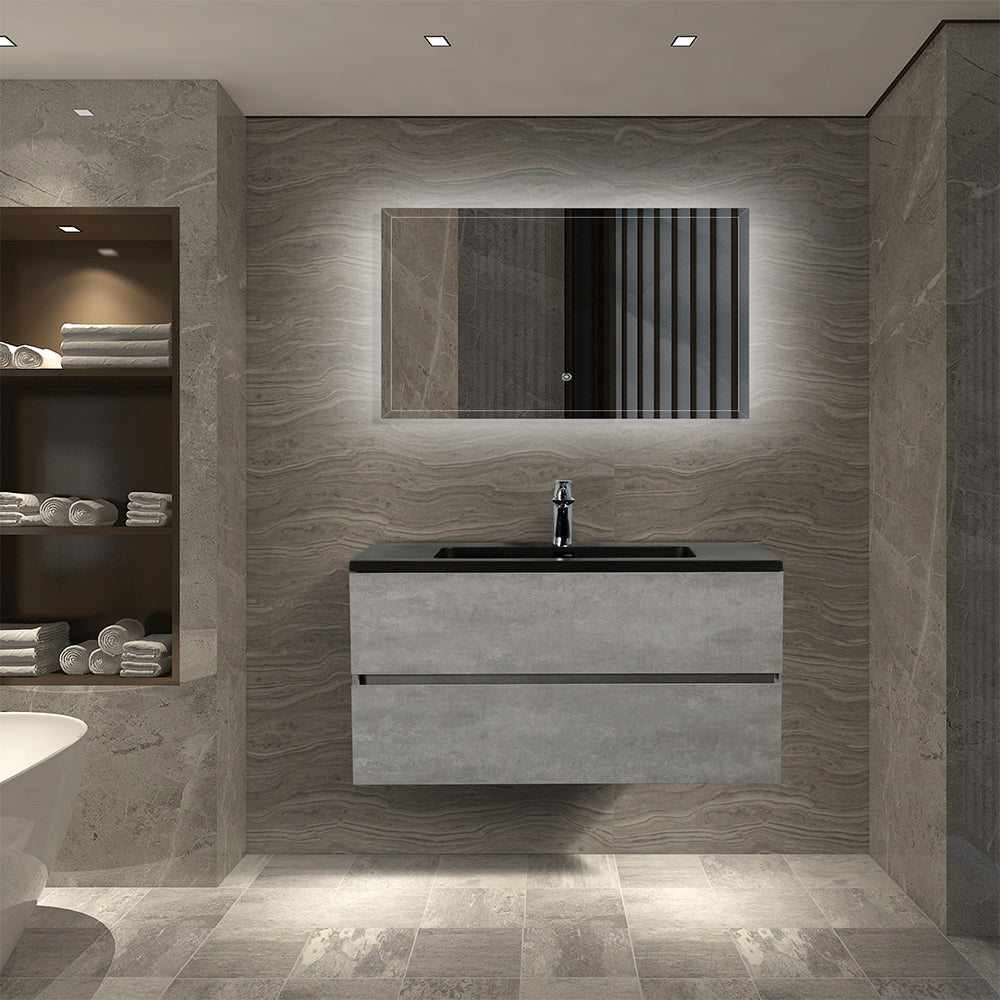 The Cover of the Elf - Black Quartz Sand Basin
This basin is made of black quartz sand, you can see the shining particles in the black basin under the light, which look like the stars in the night sky.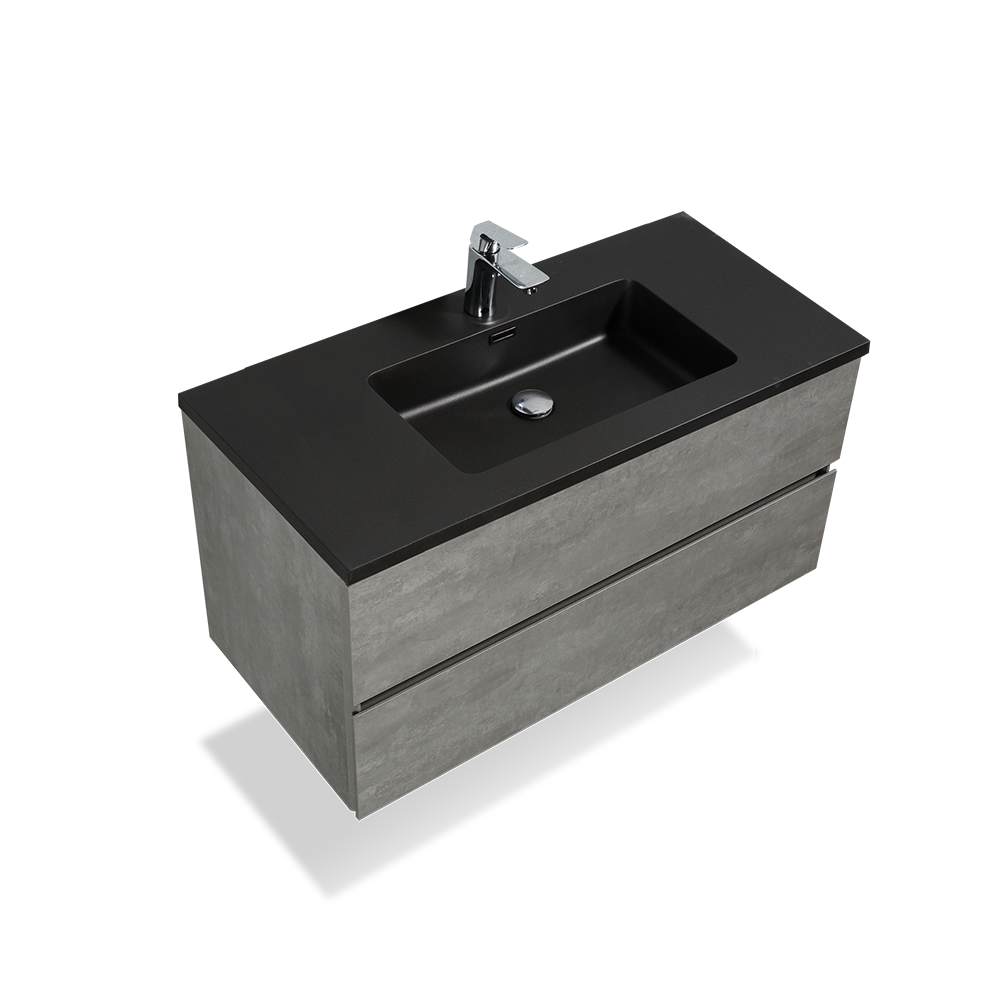 This is why I call it night elf, bringing the starry sky in your bathroom. Here are some advantages of the material that you should know.
With mixed nanometer black crystal particles, showing matte crystal luster, fashionable and high class.
Its unique protective surface keeps the basin free of water stains, no worries for tiring cleaning!
HBa > 55, not easy to get scratched,
Due to the easy-drying feature, the basin is anti bacteria, creating a Healthy and natural bathroom space.
T-Shaped Hidden & 45° Invisible Handles
Original handles can cause accidental injuries such as hitting and scratching. I guess a lot of you have suffered from it. Considering about that, T-shaped and 45° invisible handles were respectively adopted to the upper drawer and the lower drawer. Both of the drawers demonstrate the beauty of minimalism style.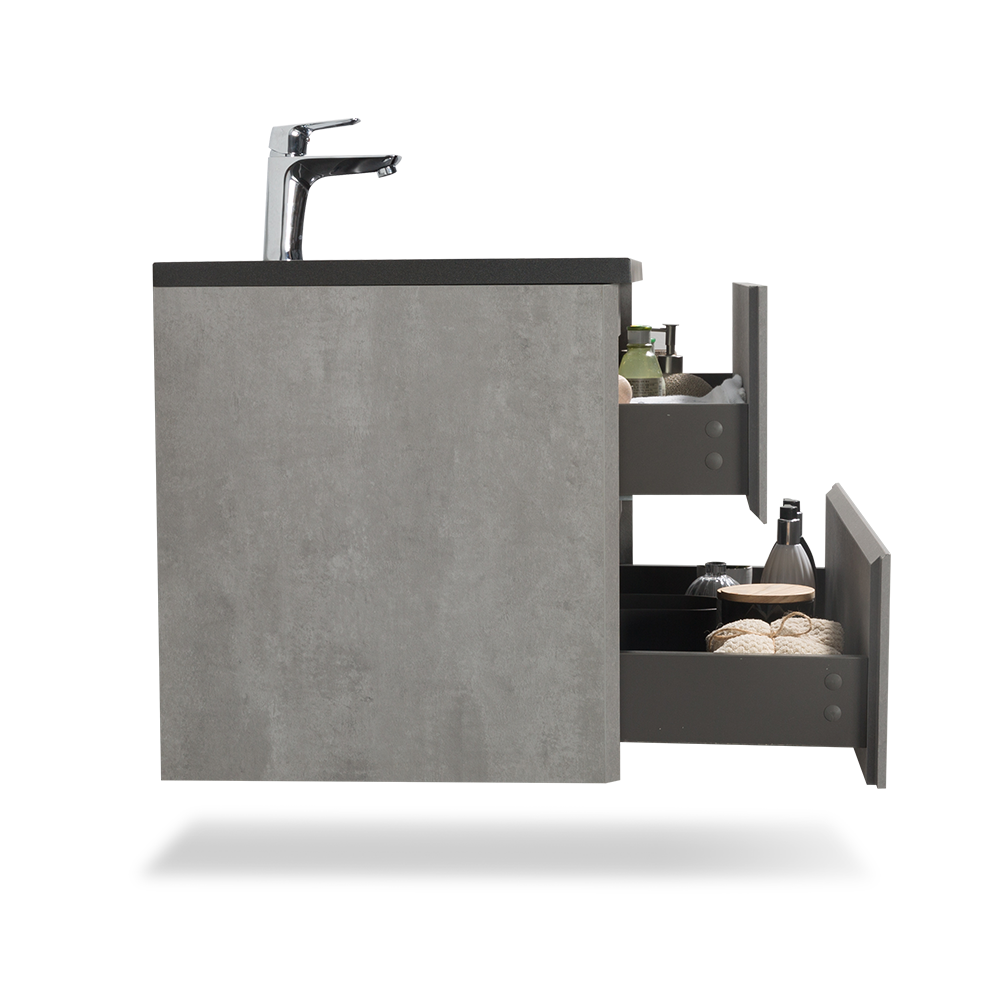 U-Shape Drainage Pipeline Access
This patent design of U-shape drainage provides more storage space for our customers. Usually, most drainage will occupy a lot of space, which limits our storage. But this design perfectly solves the problem. This ultra-thin ABS design not only can it prevent the damage to the pipeline but also keep good looking.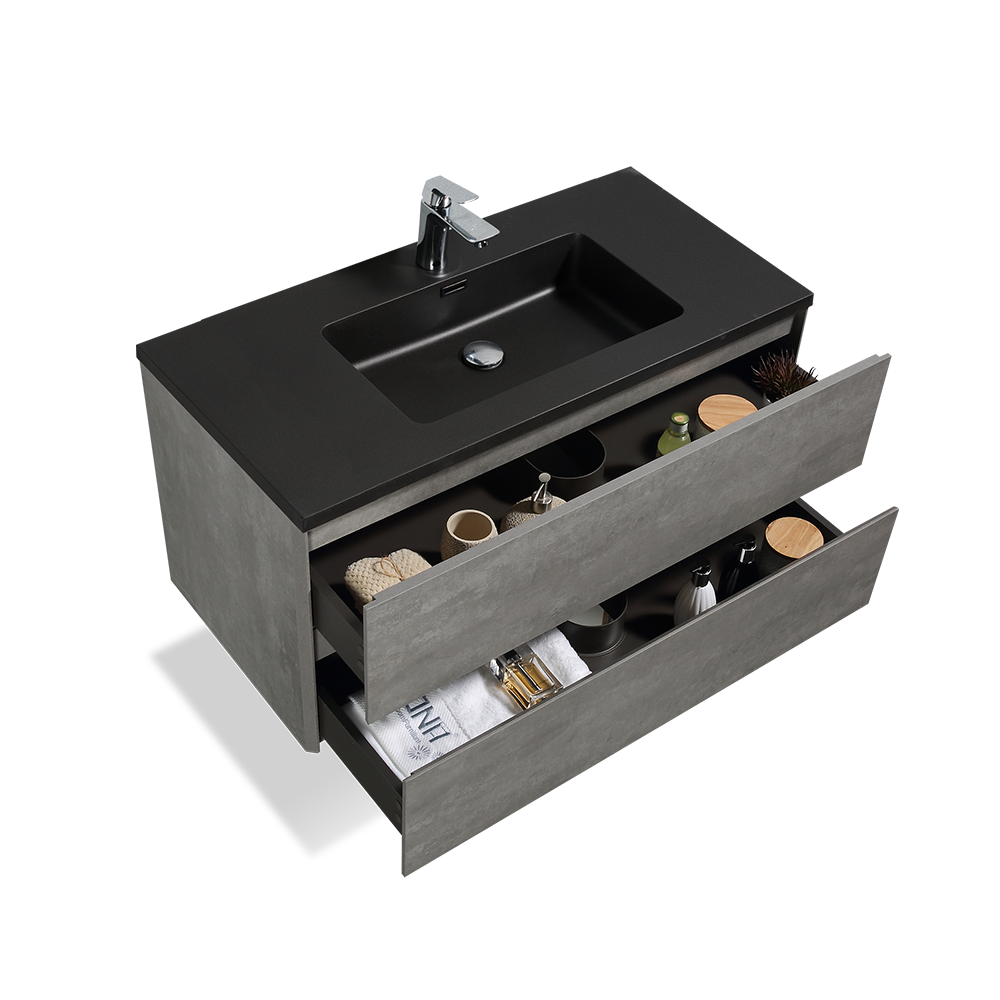 If you are not a fan of black, Edi also has white option for you. So if we call the matte black Edi the night elf, then the glossy white Edi shall be called the morning star, brings you light and bright mood.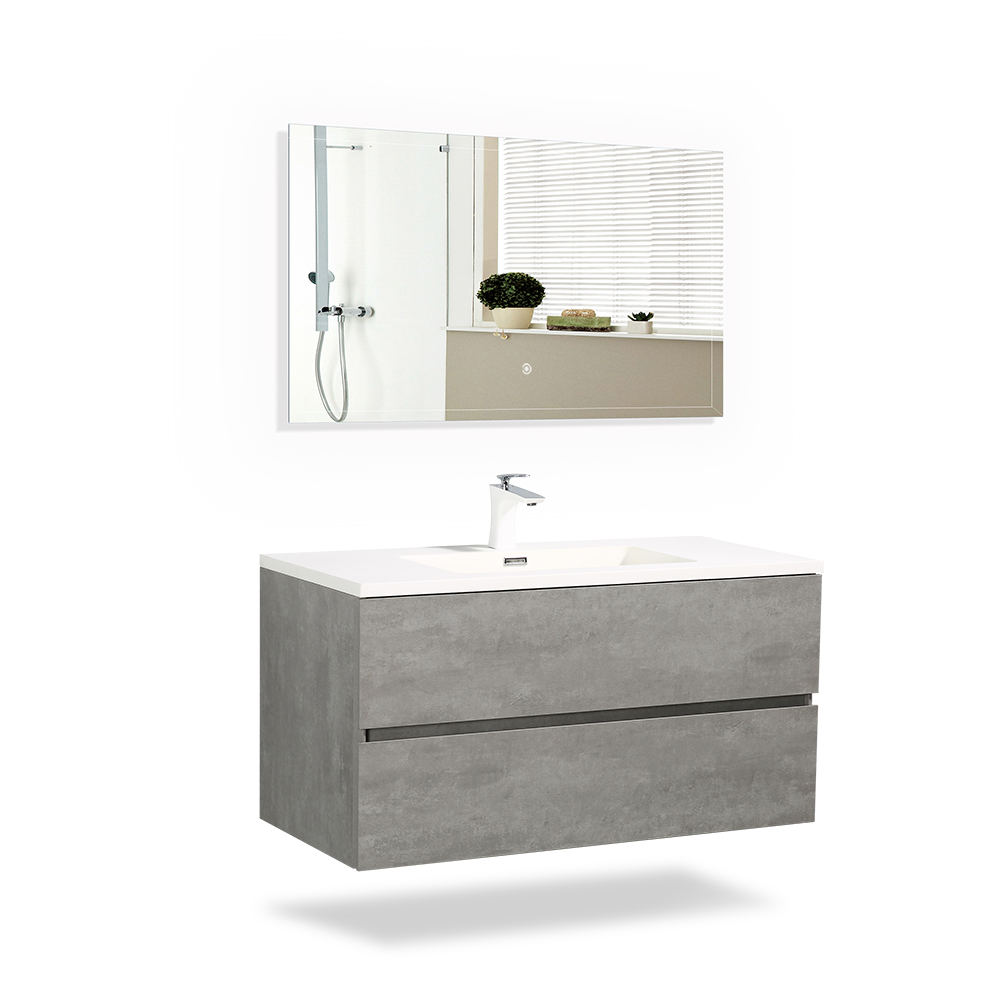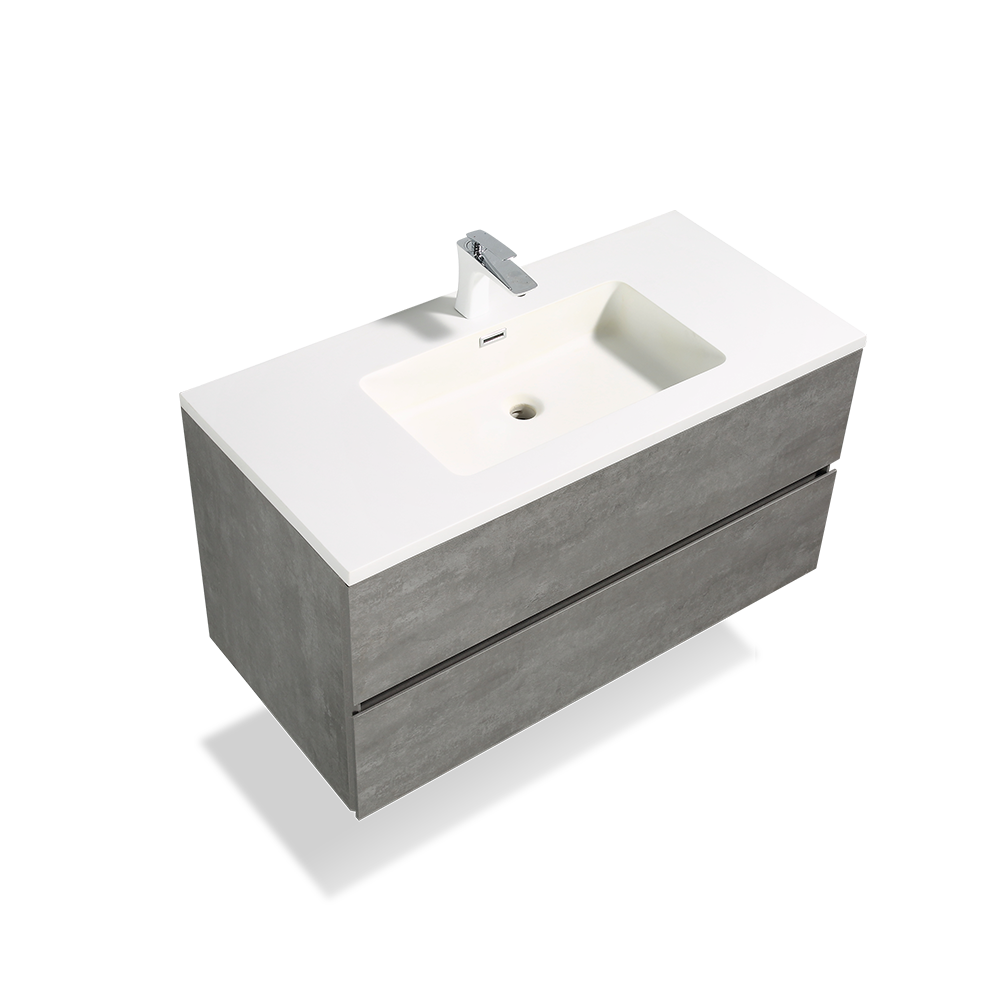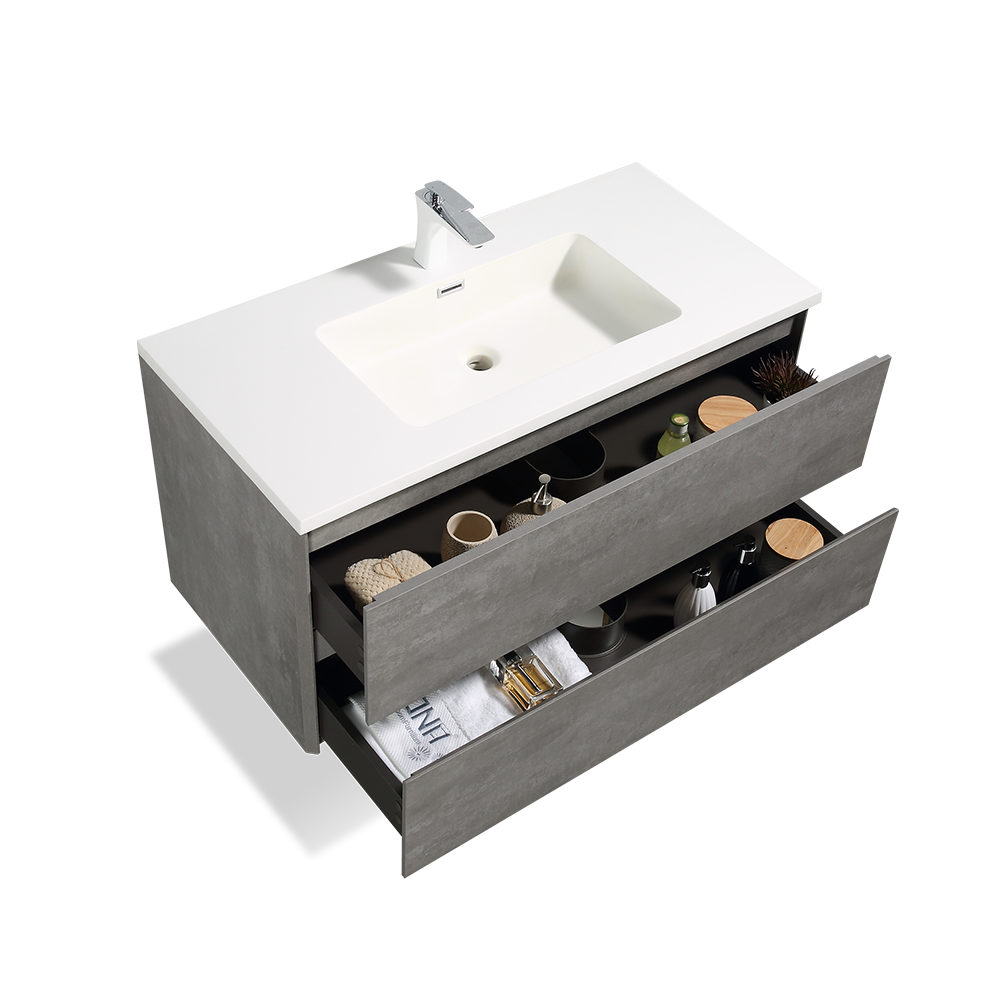 The material of the white basin is the artificial stone, which has scratch resistance, yellowing resistance and of course the easy-cleaning advantage.
Industrial-Style Cabinet Made of MFC
Both Edis' cabinet is colored in cement grey, a quite popular color of industrial style which is standing at the fashion front.
No extra decoration on the cabinet, modern and concise,which can get your eyes relaxed.  
MFC material has scratch resistance, high temperature resistance, easy to clean, acid and alkali resistance. All these advantages longer the useful time of Edi, a perfect vanity in bathroom.
If you are looking for a bathroom vanity which is not easy to be dirty, Edi will be your perfect choice. High quality, various functions and considerate designs are what Edi has. If you have any interest, you can click here to learn more about Edi and you can place your order if you want to. If you wanna know more about TONA bathroom vanities, you can click here to visit our official website.
TONA, To Nature,
Original ideas,
Never stop pursuing perfection,
Always considers for our customers.
---