Bathroom Vanity Buying Guide - 3
Today's blog is about basins. When picking a nice bathroom vanity, what may be decisive for the future using experience is the basin. If you make a wrong choice on the basin, in the following days, you will be driven crazy by the scratching, fixing, and cleaning work. Knowing the materials of basins is quite necessary, and here are some tips that will help.

Types of Basins
 1. Vessel Basin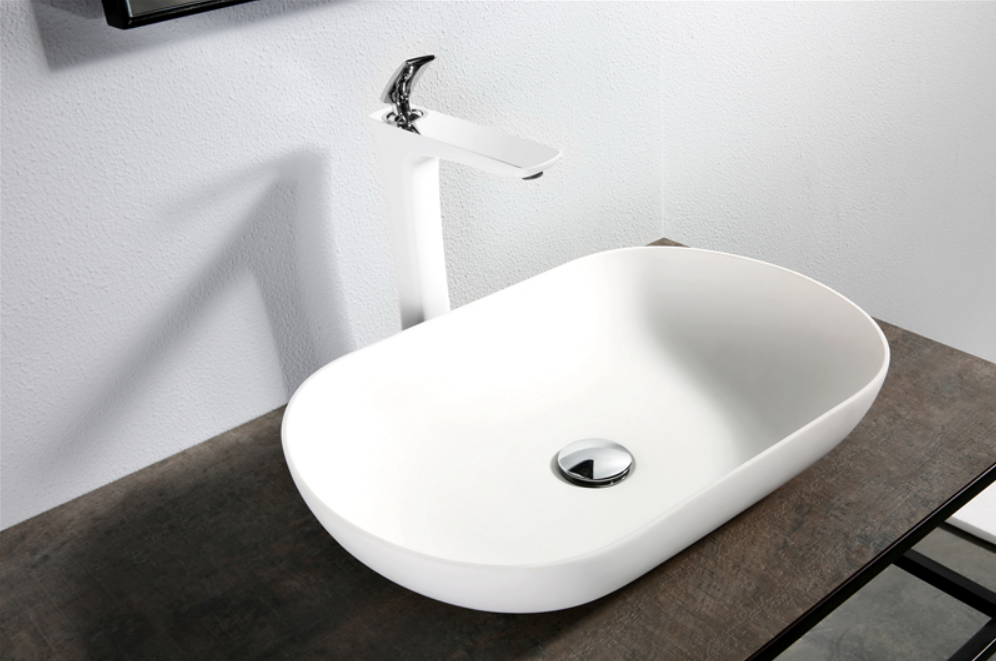 If we say the countertop is the sea, then the vessel basin should be the floating boat. For the installation, you only need to dig a hole on the countertop according to the sketch, then put the basin on and glue the bottom gap. The whole body is floating on the top, so the appearance of the basin can be diverse. If it's damaged, you can just take it out of the bathroom vanity and fix it, which is quite convenient for fixing and maintaining. But the shortcoming is obvious, that water and dirt can't directly be driven into the basin, which will be troublesome to clean the countertop.
Simple Installation

Convenient Maintaining

Countertop Cleaning Problem
 2. Drop-in Basin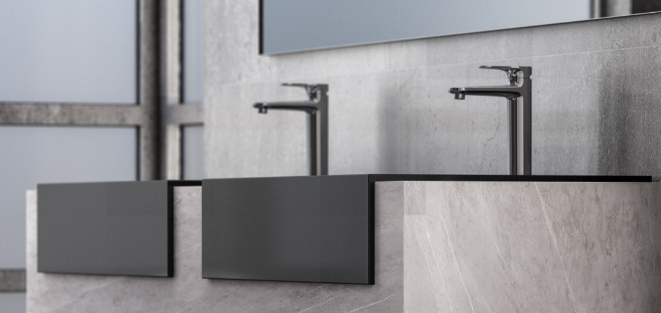 Some may prefer to see less basin on the top, then drop-in basin will be fine. Simple installation only requires you to drop it in and seal it. But with the edge resting on the top, the problem of countertop cleaning is still there.
Simple Installation

Countertop Cleaning Problem
 3. Undermount Basin


This design makes the whole basin under-mounted with no edge on the countertop. Now the cleaning work becomes easy, and the bathroom vanity looks concise. But this design will occupy some space of the cabinet, which will influence your storage space a little bit. As for the installation, it's quite complicated, and when it's damaged, it will be tough work to get it out for repairing.
Easy-Cleaning

Complicated Installation

Storage Limit
 4. Integrated Basin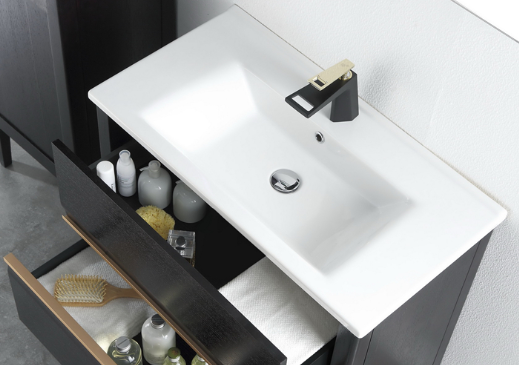 This design is pretty popular. No edge, no oversized basin view, no cleaning issue. But if the integrated basin is broken someday, the whole countertop and basin should be changed. But don't worry, the cabinet can be kept. Generally speaking, if the material of the basin is good enough, then the possibility of severe basin damage is quite low, which can almost be neglected.
Simple Installation

Easy Cleaning

Seamless Look
Common Materials of Basins
 1. Artificial Stone
Artificial stone is a material with a luxurious look but actually lower price. Most marbles can well resist scratching, cutting, heating... Durable and practical.
Good Looking

Lower Price than real stone

Durable
2. Ceramic
I bet everyone can't be more familiar with ceramic. This is a common material used for bowls and plates, with high hardness and easy-cleaning surface. But normal ceramic can be easily scratched. The water mark may be annoying, which will make you clean it once a week.
Simple Maintaining

Water Mark Issue

Scratching Issue
3. Solid Surface
Solid surface is one of the most popular materials. This material with an elegant appearance has high hardness which can resist scratching. Solid surface basins can keep themselves dry enough to resist bacteria. The maintaining is simple, and it's yellowing proof, pretty, and durable.
Scratch Resistance
Bacteria Resistance
Elegant Appearance

Anti-yellowing

Easy Maintaining
 ------------------------------------------------------------------------------
I guess you have a basic knowledge of basins right now. That's great. When picking a nice bathroom vanity that can perfectly suit you, you should be patient and strict. Please keep following us; we will provide the newest information about fine bathroom vanities.
TONA, To Nature
Original ideas,
Never stop pursuing perfection,
Always considers for our customers.
---