Allier - A Bathroom Vanity Series for Storage Enthusiasts
Do you have a lot of stuff that you don't have a place to put away? Do you feel bothered by disorganized bathroom supplies such as towels and socks due to limited storage space?

Here comes our bathroom vanity recommendation: Allier, a bathroom vanity series for storage enthusiasts.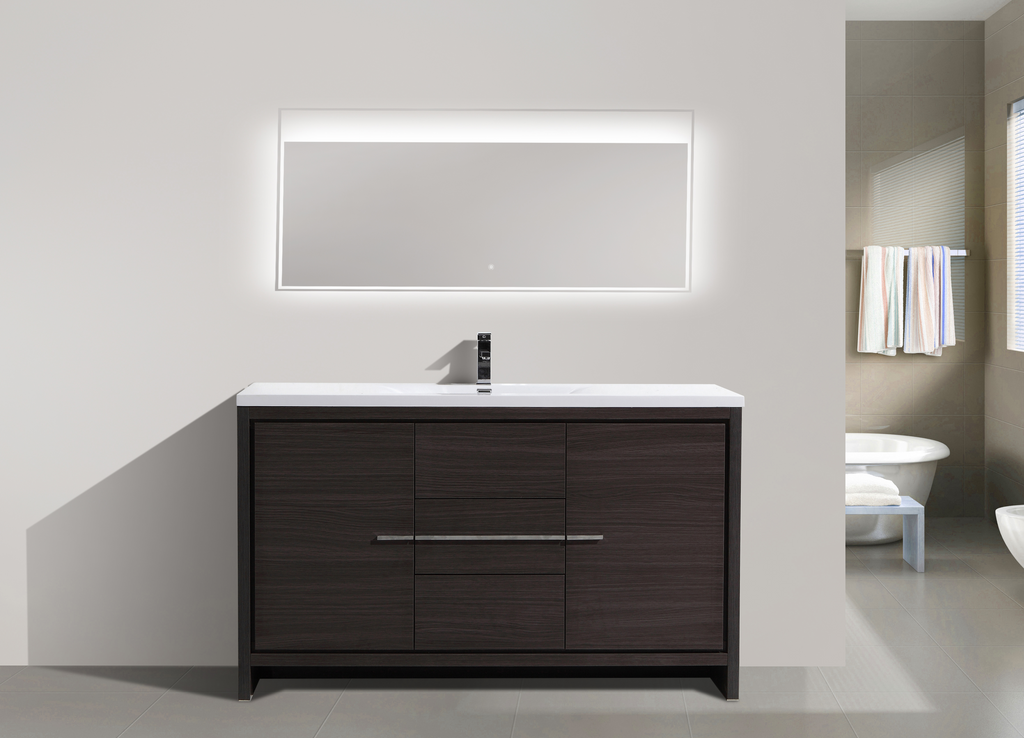 About Allier:
2 colors available: glossy white and oak gray. 
4 sizes available: 30'', 36'', 48'', 60''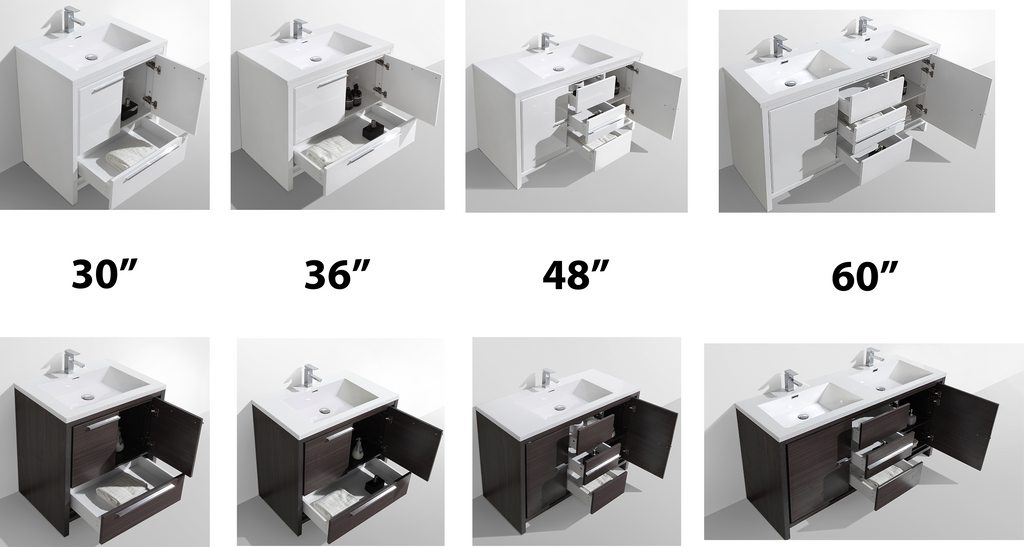 If you're looking to set up a bathroom vanity for a guest room, the 30'' or 36'' size would be perfect. With a door and a drawer, towels and other supplies can be stored well. However, I don't suggest putting your stuff on the top of a size 30'' vanity because the edge is not thick enough to ensure the safety of your supplies. But 36'' is enough for that.
For your own bathroom and personal use, the 48'' size will be great. This bathroom vanity has 2 doors and 3 drawers. The ample storage can't be more than enough for two people. The counter top space is also sufficient for placing shampoos, soaps, and even skin care products.
If you have kids, you'll need a larger bathroom vanity. Don't worry, we've already considered that. The 60'' size is the same as the 48'' one, with 2 doors and 3 drawers, but larger.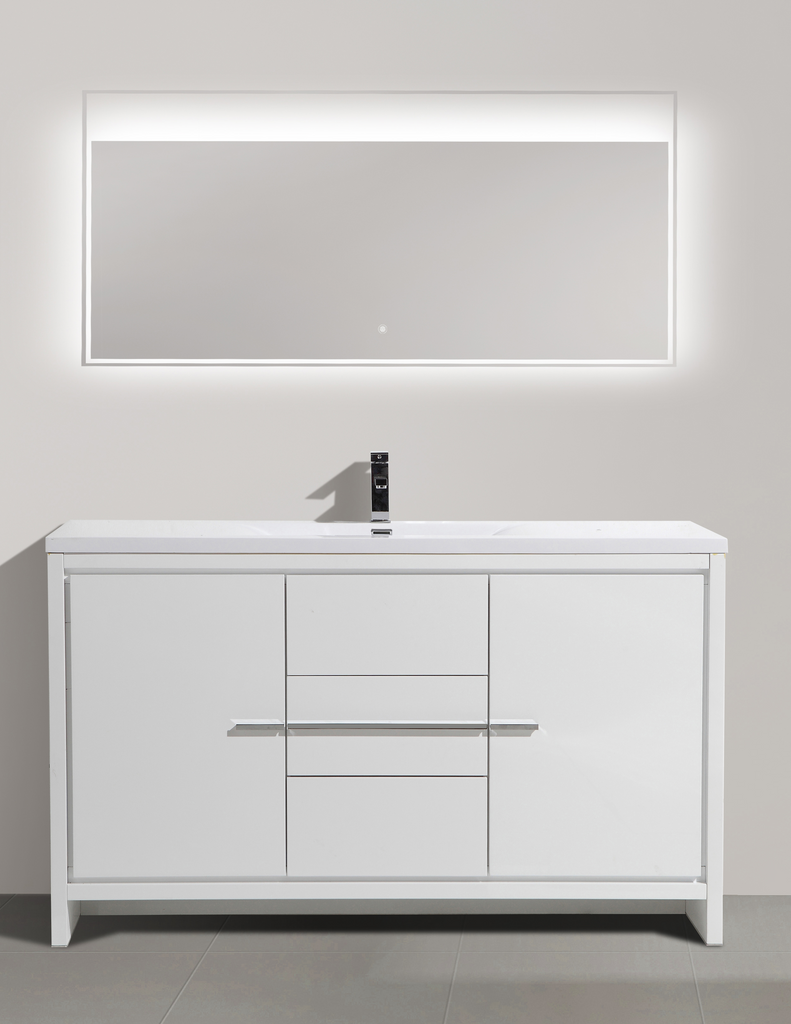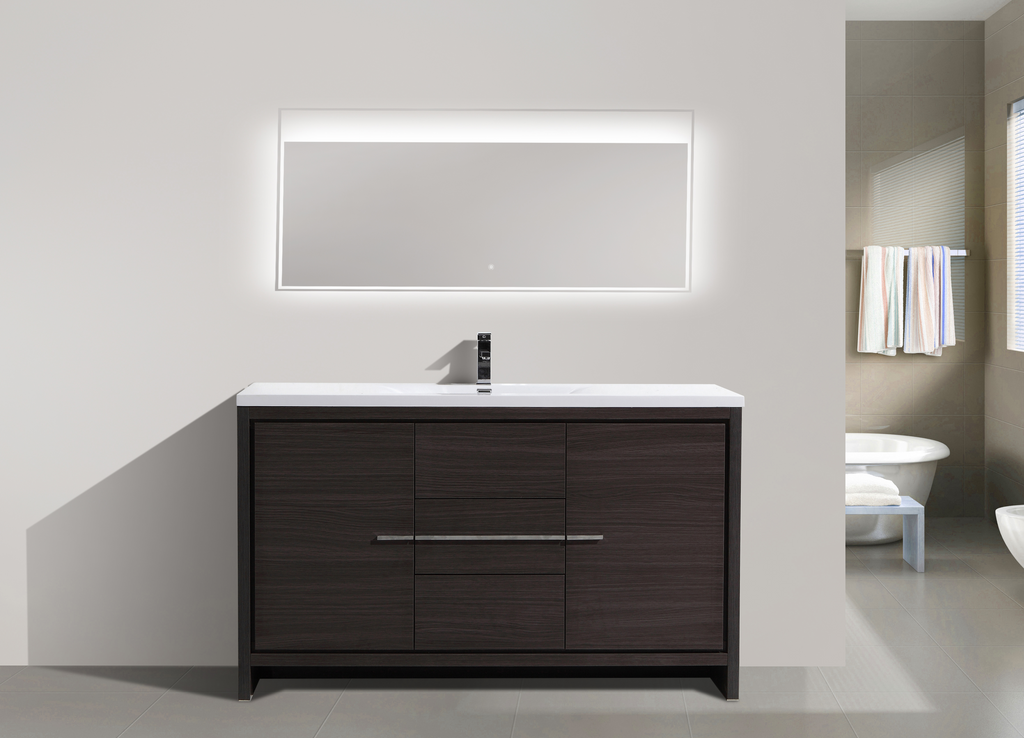 A vanity with only storage can never satisfy most consumers. Same to other TONA series of bathroom vanities, Allier is designed with a lot of considerate functions.
Glossy White Marble Integrated Sink
The carefully selected material for this integrated basin brings lots of advantages.
The white glossy resin basin is gel-coated with Royal DSM, which reaches the food class safety and does not contain 156 harmful substances.
The technologies of steel mold forming and R-angle-Accuracy provide outstanding flatness of the sink which prevents water stains well.
The integrated sink makes it easy to clean, anti-bacterial, and anti-yellowing.
DTC Soft Closing System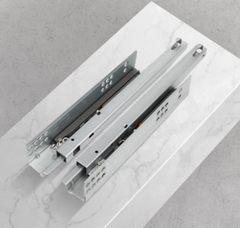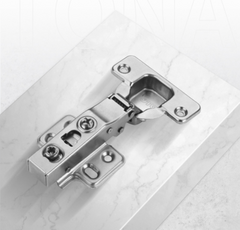 Most users can't stand the annoying noise of shutting drawers and doors. You may need to take care of the delicate vanity like the way you look after a baby to avoid the noise. However, Allier is equipped with DTC soft closing running way and hinges. No matter how hard you shut the doors and drawers, the strength will be weakened and the noise reduced.
Patented U-Shaped Drainage
The drainage usually occupies quite a lot of space, which may limit your storage. With this patent U-Shaped design, enough space is provided for drainage and the storage space is enlarged. No worries about storage.
In a word, Allier is a nice series of TONA bathroom vanities with ample storage space and practical functions. The quality is better than most vanities that require higher prices.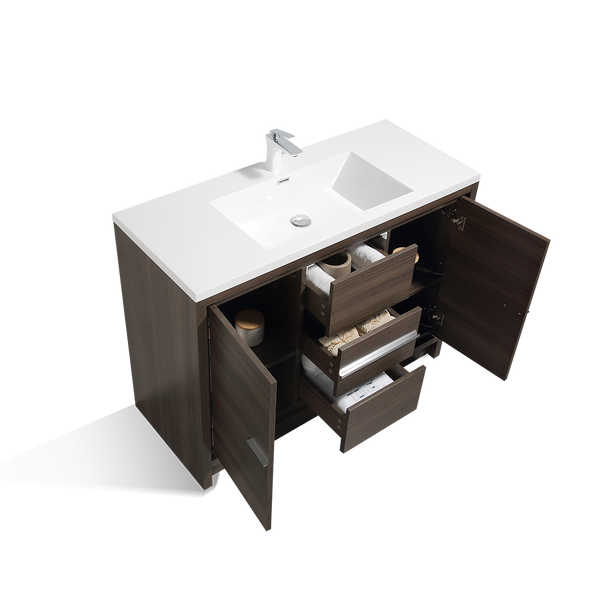 Compared with other bathroom vanities that require the same or similar price, Allier has more comprehensive functions. If you want a vanity with a stylish look and ample storage space, Allier will be your perfect choice. Please trust us, TONA has been developing in this area for over a decade. We deserve your trust, and you deserve to give Allier a try! If you want to find out more, please visit our website: www.tonausa.com.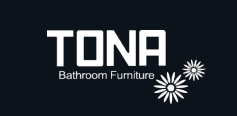 TONA, To Nature.
Original ideas,
Never stop pursuing perfection,
Always consider for our customers.
---